Liz Graves Icelandic Horse Gathering Video


Link to this page!
This video is selling like hotcakes!
It is the first comprehensive work,
done by anyone in the world, about and FOR
the benefit of the Icelandic Horse,
and it's riders.

The video has met with RAVE reviews,
from all corners of the world.

First and foremost, it's all about the horse.

Here we have a great VHS video set for the American pleasure rider of the Icelandic Horse!

This is a video of the Icelandic Horse Gathering clinic with gaited horse expert, Elizabeth Graves. This clinic was held in California this Spring. If you are into natural horsemanship and finding a true, working partnership with your Icelandic horse, you will enjoy and thoroughly appreciate the contents of this video set.

To be clear: This is the video movie of the clinic. The "CD" is a slide-show picture presentation of the clinic, along with many pictures of beautiful Icelandic Horses -- it's eye candy for the Icelandic horse fan to be sure! For information about the CD, click here.

This video set is a non-professional product; recording, editing, and reproduction being done thru Paso Robles High School A/V class. Despite it's non-professional status (camera work and editing; of course, the clinician is the tops in the field), the information it contains within, is worth much more than the price of the videos, which is $65 plus $5 shipping. There are more than five and a half hours of tape, on three tapes.

Who is Elizabeth Graves you might be asking? Liz Graves is a dedicated advocate for the naturally-gaited horse. She is a gaited horse judge, clinician, trainer, competitor, and pleasure rider with a keen understanding of equine-biomechanics and conformation.

Liz's method and philosophy is to always give priority consideration to a horse's conformation and natural gaiting tendencies. She then helps the gaited horse owner build on those two, basic criteria -- without gimmicks or artificial manipulation -- in developing their horse's strongest, smoothest saddle gait. Each horse is viewed as an individual, regardless of breed or what gait they are "supposed" to do.

Liz has a gift for teaching owners how to ride their gaited horses in a sound and stress-free manner to this end. She is passionate in her quest to end the "cookie cutter" mentality regarding how various gaited horses should move based on the fad and fashion of their respective show rings. Her admiration and respect for the equines she encounters is obvious. This is so refreshing to find in the gaited horse world, and so needed. To find out more about Ms. Graves, visit her website here:
And don't worry, there's no gadgets, no gimmicks, (no clickers!) no books, no special tack presented as being necessary to ride Icelandics well. It's common sense, good horsemanship, foundation stuff all the way.

I have long collected just about every instructional video I can get my hands on that comes out on Icelandic or gaited horses. None of them compare to what is on these videos IMHO. It's straight-forward, easy to understand, well-explained, foundational (without being too elementary for the seasoned Icelandic horse owner) information. Gawd, I'm impressed!

Already being a fan of Elizabeth Graves, I knew I would likely *like* this clinic series. But it has far, far exceeded my expectations. I hope you will all consider ordering it. I can't imagine anyone not getting their money's worth and then some, not to mention a heck of a resource to refer back to again and again. This is a phenomenal thing to have come along for the Icelandic horse community and IMHO, should be in every Icelandic horse's owners' possession. I can't say enough http://lizgraves.com/, and read clinic reports here.

The video set can be ordered directly from Liz at http://lizgraves.com, or thru SaddleUp Tack at this link to pay by credit card, or this link to pay by PayPal.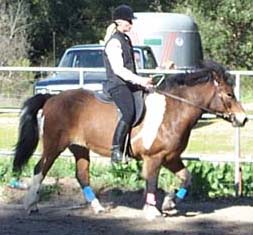 "I'm so jazzed I can hardly type. I just got my Icelandic Horse Gathering clinic series with Liz Graves and WHOW (combination whoa and wow) it is FABULOUS! Absolutely a MUST HAVE.

There is 5-6 hours in the series, (I haven't watched the last part yet) I can not believe how much good, good, good stuff in packed into this time. I learn something new or have something clarified in every segment so far. There is everything from taough good things about this set."

____________________

Wanted to let you know I received the videos yesterday and decided to just watch a little of it before I went to bed. Ha! I watched the first 2 hours of it and went to bed LATE!!! I was particularly interested in the information on bits. It is such fun to learn new things all the time. What would we do without horses!?! Thanks again for the videos!

____________________

I'm on my second time through the Icelandic videos, this time taking notes as I go along and putting which chapter they are in so it will be easier to refer back. I was so impressed by Liz Graves and kept going over her info. Can't wait for the Woodland clinic!

____________________

I just want to encourage everyone interested in understanding the dynamics and biomechanics of gait to get the Icelandic video clinic Elizabeth Graves made earlier this Spring, or even her "Gathering of Gaits" video series which came out last year. Both explain very succinctly and clearly how a horse must use his body and in what frame he must be in in order to perform a lateral, four-beat gait like the rack tolt or rack. I found it very helpful in visualizing and understanding a lot of things actually. You might too. : )

I loaned my Gathering of Gaits series out to a friend with gaited horses and now she and her husband are hoping to audit the up-coming clinic here in Michigan. She called me a few days after getting the tapes and asked if she could have them a bit longer. She said, "There is so much information on these tapes, my brain is full at the moment and I need more time to absorb this stuff!"

Anyway, please consider getting these tapes. They are IMHO, worth their weight in platinum.
To contact us, please go to the Contact Page.

Home