Training To The Clippers


Link to this page!
Depending on where you live, and how much you ride your horse, your Icelandic Horse / Pony may need to be clipped.

It is advisable to train your pony to the clippers, and doing so with clicker training is very helpful, and done without stress.

It was so warm today, Christmas, at 80 degrees, and our young Icelandic Horse (Pony) filly was sweating!

The Icelandic Horse filly is two and a half years old, a palomino, named Charm, with a short thick dense coat.

I decided to take some time to clicker train her to the clippers and started with the small, light weight Vidal Sasson clippers that are much quieter than the large animal clippers.

We started with targeting (she touched the clippers with her nose, then she gets a click and treat); and the game of "can I touch you here?", where she gets a click and treat if she allows the clippers to touch her neck, back, chest, stomach, etc. Of course, we started with the clippers in the off position.

In a short time, since she was calm and had no problems being touched and touching the clippers, I turned them on, and went thru the same routine with them on. Not clipping, but just letting her get the feel of the vibration of the clippers. Click and treat, and all is well.

Finally, even tho they are very light-weight clippers and they don't cut well, I clipped some of the hair on her neck and chest as a prelude to using the bigger clippers at a later time.

She did very well; stood at liberty, and napped a little.

Subsequently, I brought out the A-5 Oster clippers and trimmed some of the long hairs in her top coat, but the A-5's are not big enough to get through her thick undercoat. The big honkin' clippers will come out at the next opportunity!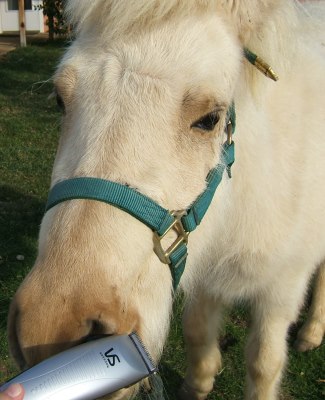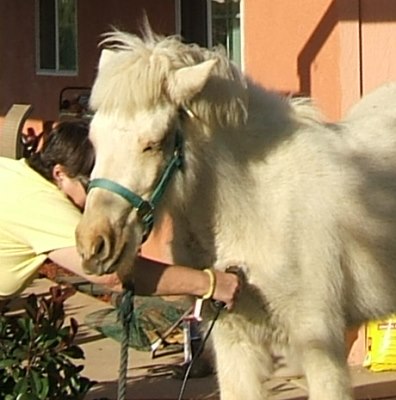 To contact us, please go to the Contact Page.

Home