Icelandic Horse Connection Newsletter #162


Subscribe to the Newsletter click here

It's getting towards foaling season. Anneliese of Unicorn Valley gives us some information about fescue and pregnant mares:

Icelandic mares are just as vulnerable to fescue as any other mares. This is the reason why we breed for April foals. The horses are on hay during the winter and the pregnant mares simply stay on hay until they have given birth.

If your mare is on fescue now, the best thing for you to do is to put her in a dry lot and give her good hay that has no fescue in it - or at least three months prior to her due date. We use a mixture of half Orchard Grass and half Alfafa. The horses do very well on this but you cannot feed it free choice.

We have had plenty of (really bad) experiences with fescue and pregnant mares before we knew what was causing the problems. I think putting the mare on good hay to prevent the problems to begin with may be better solution.

Also, you should try to be there when the foal is born, regardless of whether your mare is given medication or switched to hay prior to giving birth. Fescue can make the sac very tough so it may not break when the foal is born, causing the foal to suffocate if there is no timely intervention. This tough sac apparently does not become more breakable instantly by giving medication or by a switch to hay if the mare has been on fescue for a long time.

The fungus is not "on" the fescue but in it, the seed and all and it is propagated along with the grass. Apparently, infested fescue is very hardy and will infest non-infested field very easily. Thus, if you see any fescue at all, you should assume that it is infested to be on the safe side.



---


For horses and ponies with Cushings, Insulin Resistance, or prone to Founder / Laminitis, from Katy of SaferGrass.org:

Managing grazing for 'at risk' horses

Dry lot with limited grazing time:

If you don't have a large dry lot, make one now. Fence off a portion of your pasture small enough that they will eat it down, and trample and destroy the grass down to bare dirt. A number of horses can destroy grass in a hurry. Just short, stunted grass is NOT appropriate. It must be BARE DIRT.

I've always considered that the minimum size for a horse's living space should allow them to gallop comfortably if they wish. That's about 100 X 100 feet. Tillage or herbicide is another option, but a lot more work and trouble, and if you used herbicide it will be a while before you can put your horse in there.

If your horse or pony has any of the risk factors for laminitis, proceed with any grazing of green grass with extra caution. Introduction to grass must proceed more slowly than with other horses. Start with no more than15 minutes the first few days, and increase the grazing time only 10 minutes every few days.

All during this process observe the horse closely everyday.

I like to trot my horses in hand on the way to the paddock, or if the paddock adjoins the dry lot, watch very closely how they travel when you open the gate. If a horse that usually gallops out bucking, walks out slowly and carefully, it's time to get a halter and work them in hand on hard ground to check for laminitic symptoms. If they show ANY signs of being sore footed, they don't go out, and I proceed with first aid measures.

Bringing them in after a very short time is a real hassle at first. You many just want to graze in-hand at first, if you have the luxury of quality time. Take a cup of coffee and enjoy sunrise.

One horse may have a problem with more than 30 minutes per day; another might tolerate up to 90 minutes fine; another may be able to handle 4 hours. You have to decide.

I let mine out at dawn, and since I've learned more about how manage NSC levels in my high-powered, improved grass, I've been able to increase grazing time from 30 minutes to 2 hours per day. When I put out their LMF Low Carb Stage 1, they come in on their own to eat that.

If your horse can handle a little bit of alfalfa, now might be the good time to give it to them as a bribe. If you make a routine of something they really like after grazing time is over, they learn and come in willingly.

Yes, it's a lot more hassle than full time grazing, but a lot less hassle than recovery from founder. It's your decision as what risks you want to take, and how much effort you are willing to make to minimize those risks.



---


Recommended Books:

[] Lee Ziegler's Book: Easy Gaited Horses http://tinyurl.com/7vyjo

[] Simplify Your Riding by Wendy Murdoch

[] The Bit and the Reins, Developing Good Contact and Sensitive Hands by Gerhard Kapitzke

[] Let's Ride by Linda Tellington-Jones



---


Here's another Free DVD:

FREE DVD Offer

As a special offer, you can request a FREE Informational DVD that includes the first 2 One Hour shows we did on RFDTV with Dennis Reis. If you would like to receive this FREE DVD, please send an e-mail to the address below and include your: Full Name, Address, City, State, Zip Code and Phone Number (*Optional Information: Farrier, Horse Owner or Vet)

edss@nbhoofcare.com





---


From Gerhard Kapitzke:

Left: A simple bridle without a noseband is the most pleasant, force-free scenario because it allows the horse unlimited chewing activity and does not restrict him in any way.



#2: An English noseband (sometimes called a "cavesson") is the mildest noseband you can use--if buckled fairly loosely. The jawband runs directly under the cheekbone around the horse's head, resting on solid, less pressure-sensitive bone. When the reins are tightened, the pressure is dispersed onto the nasal bone and the lower jaw, and it is further lessened by a wide strap. The noseband prevents the opening of the horse's mouth, but still permits sufficient chewing activity. Because of its high position on the head, it does not impede the horse's breathing.

#3 A dropped noseband can be the most troublesome for horses because it is so often used without an understanding of its purposes and with intended force. When used by hard hands, pressure points are focused on the chin groove and the lower, sensitive area of the nasal bone. If adjusted too high, this noseband pulls the bit into the corners of the horse's mouth. If adjusted low, it restricts the horse's breathing. There should be room for two or three fingers between the noseband and bone in order to make such restriction bearable for the horse.

Inappropriate Nosebands:

#4: A figure eight noseband has crossed straps that can slip if the rosette in the middle has not been stitched tightly. The often thin, rounded straps may cut into the horse's skin.

#4 A lever noseband. Both of these noseband styles extensively restrict the chewing activity because of the straps surrounding the lower jaw, although breathing is not inhibited.

The English noseband remains preferable because it only encompasses the lower jaw once and does not restrict chewing activity.



---


The "Easy" Gait Chart: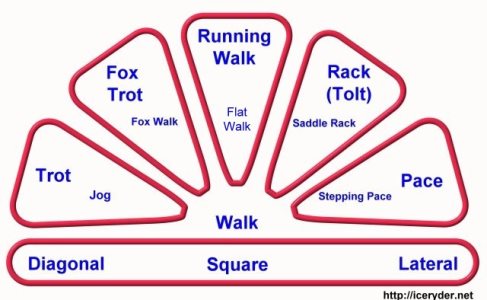 Please feel free to use it on your website.



---


Age of Maturity
By Dr. Deb Bennett:

"A normal horse has 32 vertebrae between the back of the skull and the root of the dock, and there are several growth plates on each one, the most important of which is the one capping the centrum. These do not fuse until the horse is at least 5 1/2 years old; and this figure applies to a small-sized, scrubby, range-raised mare. The taller your horse and the longer its neck, the later full fusion will occur. And for a male - is this a surprise? -- you add six months.

And here's another little fact: within the chain of vertebrae, the last to fully "close" are those at the base of the animal's neck (that's why the long-necked individual may go past 6 yrs. to achieve full maturity)."

Icelandics actually mature a little sooner than bigger horses!



---


Offers by subscribers:

Two size -0- Easy Boots (new style so new sizing, a tiny bit smaller than the old sizes). These were used about 30 minutes (until I figured out that they didn't fit, but were scuffed enough that I would not return to the store). I will sell for $18/each less than I paid for them -- so $65 total for the pair. Email Nancy: npetersonpics@gmail.com



---


For Sale--Barefoot Cheyenne, size 1, purchased Christmas 2005 for my 10 yr old daughter. The saddle has been tried 3 or 4 times indoors but my daughter did not like it as it is too big for her. For sale without fittings, $500 US, shipping extra. Pictured below. Contact Virginia: vltupper@gmail.com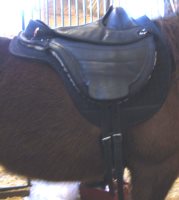 ---
I want to sell my Tucker equitation endurance, english rigging, and my antique restored Bona Allen. (center fire rigging western) The Tucker is 16.5 in, standard tree, about two years old. $900. The Bona Allen $900. Email Janice: twhcracker@gmail.com





---


Yearling Colts pictured below, dun and palomino. elisabeth@americanicelandics.com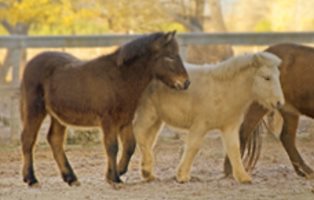 ---
Icelandic horses for sale, pictured below. The pinto gelding (Keli) is by Kjarnar and out of my Drifa. He is two now (this photo was taken last summer). He is easy to get along with, sweet and confident. The little chestnut boy (Bari) is now one year old (and will soon be gelded). He is by Bragur fra Midsitju and out of my Katina. He is a little more sensitive than Keli and will need a softer touch. They both lead, walk up to greet any person that enters their paddock, stand (more or less) to be trimmed and enjoy being scratched and petted. They are calm for shots and deworming.They have had very little training otherwise and are ready for some more challenges. They have been raised mostly in a large (5 acre) pasture. I also have Bari's older sister, who is by Gymir fra Skardi. I am asking $3,000 for either one of the boys; the filly is $4,500. Contact: Penny Hodge penelope@direcway.com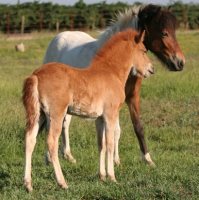 ---
I have a 2-year-old filly for sale. She is a natural tolter. I still sell the copy of an Icelandic bridle that is made for me by a Mennonite craftsman. It is of very good quality (stitched instead of riveted) and durable. The bridle is on my web site www.unicornvalley.net Email Anneliese: avirro@worldnet.att.net


To contact us, please go to the Contact Page.

Home