Icelandic Horse Connection Newsletter #161


Subscribe to the Newsletter click here

Here are a few free items available for horse owners:

[] John Lyons Perfect Horse Magazine: Free 14 day trial for on-line access: https://www.belvoir.com/subscribe/perfecthorse/subscribe.html

[] Pat Parelli Free DVD: http://www.parelli.com/

[] Clinton Anderson Free DVD: Ride Safely http://www.weaverridesafely.com/



---


Natural Horsemanship with Icelandic Horses is going strong in Europe: http://www.jugendshowgruppe.ch

Here's a couple of links to a few separate pages:

http://www.jugendshowgruppe.ch/programm/zirkuslektionen.htm

http://www.jugendshowgruppe.ch/programm/halsring.htm

and jump rope!

http://www.jugendshowgruppe.ch/programm/seilspringen.htm



---


Below is a gait chart, which shows the placement of gaits from trot to pace, and all the easy gaits in between. Depending on the "gaitedness" of each individual Icelandic Horse, some can do all of the gaits; some can do only a few. Some Icelandic Horses may only be three gaited (walk, trot, and canter); these Icelandics may be better for dressage than Icelandics that are more gaited. Some Icelandic Ponies may be two gaited (pacey walk, faster pace). They are naturally very laterally wired; and it may be difficult for them to trot or canter.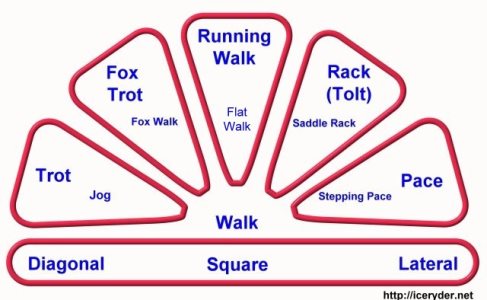 ---


Recommended Books:

[] Lee Ziegler's Book: Easy Gaited Horses http://tinyurl.com/7vyjo

[] True Horsemanship Thru Feel by Bill Dorrance / Leslie Desmond: http://tinyurl.com/99tka

[] Understand Your Icelandic Horse by Rikke Schultz: http://icefarm.com/tackstore/rikkebook.htm

[] Horse Conformation Handbook by Heather Thomas: http://tinyurl.com/75ozn



---


Saddle Placement:

The saddle should never go behind the 18th thoracic vertebrae, which is the vertebrae corresponding with the last rib.

Behind this vertebra are the lumbar vertebra, which is the weakest, non-weight bearing area of the back.



---


Clinics to Consider:

May 13-26: Combined Clinic with Connected Riding & TTEAM Connected Riding with Peggy Cummings www.connectedriding.com and TEAM with Robyn Hood.

June 4-8: Icelandic Riding Clinic at the IceFarm (Canada): http://icefarm.com



---


Clicker Training

Clicker training is one of the best methods of training Icelandic Horses. They absolutely love it, and really shine!

For more about clicker training: http://clickryder.com

and http://iceryder.net/trainsunny.html



---


Please feel free to drop into the email list and read some of the discussions: http://groups.yahoo.com/group/icehorses

There's everything from saddles to gaits to care and feeding, conformation, biomechanics, etc.!

We will be studying "bitting" on the list in the next few weeks.
To contact us, please go to the Contact Page.

Home