Liz Graves, Gathering of Gaits, Video


Link to this page!

Use Google Bookmarks to Bookmark This Page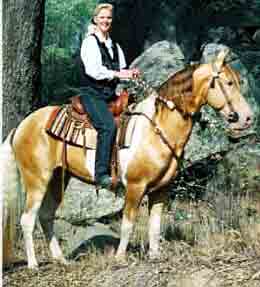 Featuring Elizabeth Graves

Filmed at the 2002 Southern California Clinic, "as it happens" gait and training situations. Contains information for beginning levels to advanced from the ground up. Also includes:

Conformation analysis as applies to gait and development naturally
Bitting and applications
Saddle fit, placement, mounting
Equitation
Using rein, leg and seat aids
Training exercises for horse and rider
Understanding equine psychology and much more..

The information on the videos can be applied to all gaited horse breeds, including Missouri Fox Trotter, Tennessee Walker, Peruvian Paso, Plantation Horse, Icelandic Horse, Paso Fino, American Saddlebred, Gaited Pony, Mangalarga Marchador, Rocky Mountain Horse, Kentucky Mountain Horse, Spotted Saddle Horse, Racking Horse, etc.

3 tapes totaling 6 hours: $65.00 plus $5.00 shipping and handling
International shipping rates apply outside the USA

From the Author:

It is my goal in producing this video to provide a valuable tool in which to help anyone with any breed of gaited horse, be it a Fox Trotter, Tennessee Walker, Icelandic, Rocky, ect. Through it, I have tried to share a vast amount of useful information through my experiences over many years of working with gaited horses, including good everyday basics, to understanding what the gaits are and why. Also included is helpful information on how to develop and fine tune the gaits within our horses naturally and for the good of the horse. My ultimate goal is helping horse and rider work together as a team peacefully and humanely.

About the Author:

Elizabeth Graves has been an active participant in the equine industry for most of her life. Following in her mothers footsteps, she started her own training career in 1978. Liz has been judging since 1982 and national clinician since 1990. Liz specializes in all the gaited breeds specializing in gait analysis and development naturally. Liz resides at her ranch Shades of Oak in Clear Lake, MN where she trains, boards horses and teaches lessons.

Contact Liz at her website: http://lizgraves.com.


Disclaimer: All contents of video material is solely the opinion of Elizabeth Graves and is to be taken as such. Use of information, techniques and applications specified on these videos is done so at your own risk.

There is a no return policy on videos.
To contact us, please go to the Contact Page.

Home