Christmas Eve, Harold Roy Miller


Link to this page!
Christmas Eve
Harold Roy Miller

It's Christmas Eve on the Gait House spread.
The horses have been put in the barn and fed.
Now it's time for me and my spouse
to get out of the cold and go up to the house.

There's a good chance of snow tonight.
That means that this Christmas could be white.
The mood is kinda like being on vacation -
a time of happiness and celebration.

The neighboring houses are lit up in lights
and it creates some festive yuletide sights.
Every year they have a little contest
to see who decorates their place the best.

Wrapped presents are under the Christmas tree;
a bunch for my wife and a few for me.
I got her a biothane bridle that should make her glad
and a southwestern design saddle pad.

She's decked out in her robe and warm fuzzy socks,
eating chocolate-covered cherries out of the box.
I'm sipping apple cider and watching for the coming snowstorm
and wishing it would hurry up and start to form

We enjoy the cozy comforting atmosphere
as we celebrate all the Christmas cheer.
We reflect on family who are far away
and hope they have a happy Christmas day.

We have favorite Christmas carols we like to sing.
and a hymn as a tribute to the Lord and King.
We are in good spirits and a tranquil state
and we prepare for bed as it starts to get late.

Christmas is special. It brings joy and peace,
not to mention a little weight increase,
because as much as I like all these yuletide factions,
Christmas dinner is still one of the main attractions!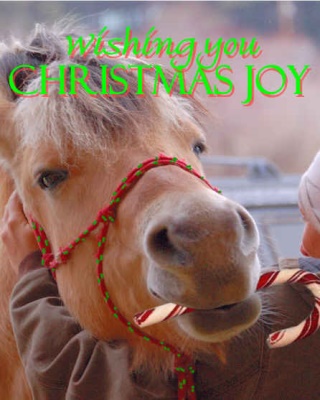 To contact us, please go to the Contact Page.

Home