Dream Catcher
By Judy Ebner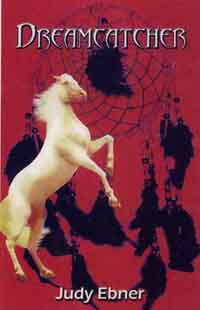 Book Review

Dreamcatcher

A Summer Release, Not to be Missed, By East Bay Writer-Horsewoman, Judy Ebner

by Melrose Sanchez

Judy Ebner takes to the trailer almost daily with her Quarter horse, Tednick. While the rest of us are wrestling with reins and stirrups, sunscreen, and banana-packs, Judy uses her riding time spinning the adventures of Linday Bradford, horse trainer.

Set in nineteenth century, Oklahoma, Dreamcatcher is the story of young, Linda Bradofrd, who never met her mother, Elizabeth. Yet, it was her mother who sensed the child she was carrying was destined to have a way with horses. Her husband, Bill, wanted another son and ranch hand. Little did he know that it was Lindy, his gifted daughter, who held the future of the ranch in her hands.

Lindy gre with the guidance and love of Birdie, the black housekeeper, and Chancy, the Chinese stable hand on the Bradford ranch. Shunned by her father and older brothers, Lindy finds the ways and means to feed her hungry mind and develop the life skills to realize her dream. Through her respect and friendship with horses, Lindy develops a gentle approach to horse training and struggles to find acceptance.

This patiently told tale, spans a scant 16 years and pulls the reader into Lindy's plight and adventures. Sexism, racism, family, and community are a few of the issues explored in this bit of fiction every horseperson longs to read. We learn to love the pony, Jezebel, the gray stallion Star Fire, and to appreciate the devotion of the little gelding, Dusty, the horses in Lindy's life.

This wonderful read runs 544 pages and is truly a labor of love. Carefully crafted, the tale captures the reader from the preface with the introduction of Elisabeth and Lindy's birth to the last page whe Lindy realizes fulfillment with the help of supportive town folks, distant Native Americans, and finally her grief-ridden father. The characters are developed with a clear understanding of humankind and the strength of personal insight.

Judy s first novel is but a promise of te work to come from this talented, young writer who takes the lessons she learns in the saddle and translates them skillfully to the craft of fiction writing. Dreamcatcher is a read that will only intensify one's own equine relationships and riding experience. Lindy's horsemanship, personal integrity, determination, attitude, and courage is something to be remembered each time we set boot to stirrup.

The sequel is currently underway and may well be realzed sometime in 2003, when we will again get to visit Lindy and the Bradford Ranch.

Dreamcatcher is priced at $17.50 and available at http://www.1stbooks.com or http://www.judysdreamcatcher.com which has further information on the book and author.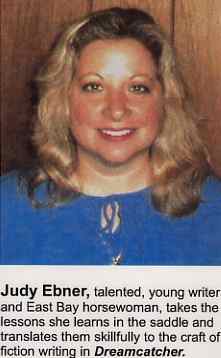 Home