Liz Graves' Icelandic Horse Clinic
Highlights on CD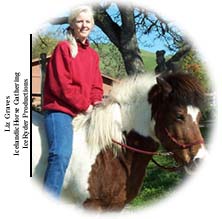 We produced the Slide Show on CD, due to the interest in the video of the Liz Graves Icelandic Horse Gathering in California. It'll take a little while longer before the video is ready for distribution, but in the meantime, you can get a jump start with the CD. It has over 150 images to learn from and enjoy.

Liz Graves is a judge, clinician, and trainer of all gaited horse breeds. She has in-depth knowledge of equine bio-mechanics along with saddle fitting and bit fitting. She also has long-term experience in many disciplines such as dressage, western pleasure, sidesaddle, gaited horse, etc.

One of the best things about the CD and video is that the information is relevant to all gaited horse breeds including Missouri Fox Trotter, Tennessee Walker, Paso Fino, Peruvian Paso, Spotted Saddle Horse, Tennuvian, Walkaloosa, Rocky Mountain, Kentucky Mountain, etc.

Liz's other most recent video is the Gathering of Gaits which features Tennessee Walkers, Missouri Fox Trotters, Spotted Saddles Horses, and Rocky Mountain Horses.

The cost of the CD is $10 plus $2.00 shipping.

To order the CD, purchase from SaddleUp Tack. SaddleUp Tack also offers discounts to our email list members (gaitedhorse and icehorses)

Thanks!










Home