Laminated Cards for Training Reminders


Bookmark this page! Try Google Bookmarks
Link to this page!
When I go out to train one of the horses, I have a set of laminated cards laced onto a piece of hay string to wear around my neck. These cards act as reminders of things to be worked on.

Some of the cards list the Parelli (PNH) 7 Games, and some with specific games that I want to remember to do. Some of the cards have notes on "Feel"; some with arena patterns, etc.

It's a good way to keep yourself on track and to review previous lessons with a horse.

Make your own cards from 3 x 5 index cards, use laminating stock from Staples or other stationery store, or have Kwik-Copy or other printing store laminate the cards for you.

Punch holes at the bottom of the cards (easier to read when you pick them up) and string them thru a ribbon or hay string. They can be worn around your neck, on the saddle horn, or a D-ring.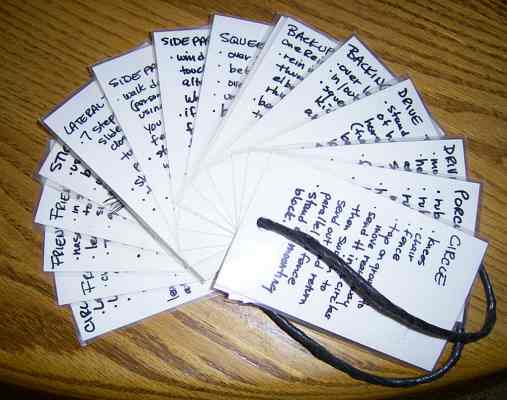 To contact us, please go to the Contact Page.

Home